No photo available. 341. VIN 2J65Z147745, BODY 76A, COLOR T, TRIM 34, DATE 23B, DSO 71, AXLE 1, TRANS 4
Comments: Submitted 10/13/2008.
No photo available. 342. VIN 2J62X112419, BODY 54A, COLOR T, TRIM 14, DATE 25K, DSO , AXLE 1, TRANS 4
Options: Power Steering, White roof, seat Belts, AM/FM Radio
Comments: Galaxie is in nice rust free condition, the car is in Germany since 2008, 74,000 original miles, drives like new, a very great car. Submitted by Thomas Gotsch, Germany, 10/19/2008.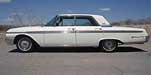 343. VIN 2D62X139749, BODY 54A, COLOR M, TRIM 45, DATE 02D, DSO 65, AXLE 1, TRANS 4
Comments: What can I say, I Love this car. The seats have the plastic covers still on them they have never been sat on. 73000 original miles. I am the second owner. She looks beautiful though could use some paint. Submitted by Brian Dougall, 11/04/2008.
Email: bdougall73@yahoo.com
No photo available. 344. VIN 2J69Z169280, BODY 76B, COLOR X, TRIM 84, DATE 07F, DSO BLANK, AXLE 1, TRANS 4
Comments: Proud new owner of this vehicle rescued from a walnut orchard. Restoration started November 1, 2008. Would like to have the burgundy upholstery that was original, will be frame off restoration just started taking the car apart. Follow this restoration with monthly updates. Submitted by Skip, 11/06/2008.
Email: tc88@wildblue.net
No photo available. 345. VIN 2P63G183618, BODY 65A, COLOR H, TRIM 32, DATE 06F, DSO blank, AXLE 5, TRANS 5
Comments: Submitted 11/10/2008.
No photo available. 346. VIN 2D52W109035, BODY 54B, COLOR M, TRIM 25, DATE 09K, DSO blank, AXLE 6, TRANS 1
Comments: Submitted by Fernando Cervantes, 11/28/2008.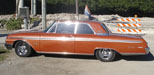 347. VIN 2W67G146346, BODY 65B, COLOR V, TRIM 39, DATE 10G, DSO 32, AXLE 5, TRANS 5
Comments: I just got the car it is in great cond. with 68000 miles. Submitted by Jim Hanson, 11/28/2008.

348. VIN 2E62X215940, BODY 54A, COLOR A, TRIM 16, DATE 09E, DSO 15, AXLE A, TRANS 4
Options: A/C, P/S, P/B, POWER LOCK, WINDOWS AND SEAT Comments: Just bought it and very little rust. Most of the trim is still there. Submitted by GEORGE ROSEMA, 12/06/2008.
Email: GTROSEMA@YAHOO.COM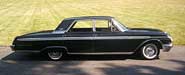 349. VIN 2J62X803398, BODY 54A, COLOR 1SS, TRIM 78, DATE blank, DSO blank, AXLE 1, TRANS 4
Options: Electric Clock, Door edge guards, rear fender shields, heater and defroster, radio, power steering, Cruise-O-Matic transmission, winshield washer and electric 2-speed wipers, front bumber guards. Comments: This Ford was purchased at Dominion Ford Motors in Vancouver, B.C., Canada in 1962. In 2008 ,it was painted black from the original color of black cherry. The mileage is at 129,000. This vehicle has been featured in the DVD documentry " Shake Rattle & Roll" 2007, and also features a George Barris signed glovebox. Submitted by Stephen Smith, 07/17/2008.
Email: steves67belair@hotmail.com
No photo available. 350.VIN 2J69X175099, BODY 76B, COLOR T, TRIM 84, DATE 18G, DSO blank, AXLE 1, TRANS 4
Comments: Submitted by Pasi Makipaa, 12/11/2008.
No photo available. 351. VIN 2W67Z152335, BODY 65B, COLOR M, TRIM 82, DATE 20G, DSO 710374, AXLE 1, TRANS 4
Options: Factory Air Cond
Comments: Genuine old classic, still original colour but paint looking weak, no rust, has spent all its life in LA before coming to little ol New Zealand, still has buck tag under the bonnet attached by wire to the firewall. Submitted by Darren Cox, 12/20/2008.
Email: darren_rachel@xtra.co.nz
Registry Note: The bonnet is the hood. For info on the buck tag see the Restoration Tips page.


352. VIN 2J63G157824, BODY 65A, COLOR M, TRIM 32, DATE 13D, DSO blank, AXLE 9, TRANS 5
Options: Radio, heater, and wipers are factory deleted, lite weight bucket seats.
Comments: Could this be a factory race car? In need of a complete restoration, located in Apache Junction, AZ. Submitted by Roy Pyle, 12/21/2008.
Registry update: Jan 1, 2019
Car is now owned by Phil Hertel.






353. VIN 2P52Z146335, BODY 54B, COLOR T, TRIM 56, DATE 23A, DSO 9764, AXLE 1, TRANS 4
Options: This is a police package car. The Tag is missing the trim and trans numbers. (I had to put something in there to get it to work) I have the original window sticker and there is some doubt on whether the Z is supposed to be a 2. The car does have a correct Police interceptor 330 HP solid lifter motor with factory cast iron headers. It also has a 4 digit DSO # which means special order stuff installed. Comments: Runs well. Now painted Black and white. All the police equipment works, and this car was used in the movie "The Worlds Fastest Indian". Submitted by Sam Cotton, 01/11/2009.

Registry Note: Sam, Thank you very much for sharing this great 1962 Galaxie with us. When I first saw the movie The World's Fastest Indian, not only did I love the movie but seeing this great '62 Galaxie Interceptor in it made it that much better. Like the movie credits say, BASED ON ONE HELL OF A TRUE STORY. "OFFERINGS TO THE GOD OF SPEED."

The Z is correct for the 390 Interceptor engine FOR 1962. In '62 the P code, used in '63 and later for that engine, was not used.



354. VIN 2G67X198723, BODY 65B, COLOR I, TRIM 88, DATE 06G, DSO 32, AXLE 1, TRANS 4
Options: 352 Thunderbird Special. Automatic on the floor, power steering, power brakes, AM radio, floor mats, back-up lights, padded dash, padded visors, Chrome pleat seating w/bucket seats, and chrome mylar & carpeted doors. Dual red & white door lights, dome light, trunk mat.
Comments: This was a one owner vehicle until 4/25/08. Was handed down to my husband & I in order for it to stay with family. All original...no dents, dings, scratches. Garage kept in Mansfield, Ohio until 1998, and was hauled to Jacksonville FL, where it resides and garaged w/cover. This vehicle has its original spare tire w/green paint on whitewall, is still aired up, and the jack has never been touched. This car was appraised by North FL. Auto Appraisers on 1/28/2009. Submitted by Victoria Bell, 01/29/2009.
Email: VICKY.BELL@CARDINALUNIJAX.COM
No photo available. 355. VIN 2E62X225563, BODY 54A, COLOR VM, TRIM 39, DATE 23E, DSO 15, AXLE 6, TRANS 5
Options: power steering clock
Comments: Perfect condition. Submitted by Nick Liggett, 01/29/2009.
Email: nitannick@aol.com
No photo available. 356. VIN 2D62W147925, BODY 54A, COLOR M, TRIM 12, DATE 14E, DSO 62, AXLE 1, TRANS 3
Options: ac/ht oem
Comments: I found this car about to be scraped and could not let that happen. It is in need of attention but all chrome is intact. All glass is still good. Original motor and trans in it. Straight body some damage but in unbelievable shape for setting since '82. Submitted by Phillip, 02/07/2009.
Email: mysteryman76903@yahoo.com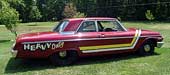 357. VIN 2G51G169861, BODY 62B, COLOR A, TRIM 25, DATE 05B, DSO 33, AXLE 9, TRANS 5
Comments: This car was well known on the Detroit street racing scene as "Twistin' Time" in it's early years. Purchased by John Vermeersch in late 60's and modified for NHRA C/MP class drag racing. Extensively modified by John, who added 'dealer lightweight' kit C2AZ-6200012-A, consisting of factory fiberglass hood, front fenders, decklid, and right/side door, aluminum front bumper and brackets. Also received plexiglass windows, including windshield and other weight saving modifications.
Purchased from him in 1977 and raced until 1983. 427 SOHC engine, steel wheels, and exhaust system installed in 1986 - street driven since. A great old survivor! Submitted by Randy Millard, 02/14/2009.
Email: onotaridge@comcast.net
Registry Update 3/25/10:

March 1972 photo of Twistin' Time. Thanks to Adrian Clements for submitting this John Vermeersch photo.
No photo available. 358. VIN 2N51V135456, BODY 62B, COLOR T, TRIM blank, DATE 05D, DSO 212458, AXLE 6, TRANS 1
Options: No outside rearview mirror, back-up lights, no rear seat arm rests. When I got the car it had AM factory radio and carpet.
Comments: Car is Corinthian White, Grey bench seat interior, Kelsy Hayes wheels dog dish hub caps. It is now equipped with A 1970 428 block, 427 heads, Comp Cams mechanical .605 lift 294 deg. duration (advertised) 110 deg. lobe center cam w/Comp cams roller lifters, factory tr-power, 4-speed, 3.50/1 Equa-lock, dual point distributor. Future work new door panels, disc brake conversion. Submitted by Michael T. Lieb, 02/17/2009.
Email: emptylieb@hotmail.com
Registry note:The 6 digit DSO indicates this car was equipped with an option that was not normally available. The blank Trim code may be a hint that it had some special interior.
No photo available. 359. VIN 2J65Z166990, BODY 76A, COLOR J, TRIM 35, DATE 25E, DSO , AXLE 1, TRANS 4
Options: P/S, P/B, A/C, 2 SPEED WIPERS.
Comments: Vehicle needs complete restoration, but has very little rust, mainly in quarters in front of rear fender wells. I am changing it to an XL so it will be a clone if this makes any difference. I just like the buckets and floor shift. It will probably take me approx. 2 years to complete because I'm going to do a rotisserie rebuild. The engine and trans are fine, I can drive it around but I'm going to refresh them both plus probably add a mild cam to it. I have a Offy spreadbore intake with Holley spreadbore carb to put on it. I'm going to paint it back Rangoon Red and put the interior back red crush except it will be buckets instead of bench. I'm going to try to keep the site updated on my progress.
LOUIS OWENS

Submitted by LOUIS OWENS, 03/11/2009.
Email: jelco53@earthlink.net
No photo available. 360. VIN 2D63X139358, BODY 65A, COLOR A, TRIM 35, DATE 30C, DSO 61, AXLE 1, TRANS 4
Options: Air conditioning (dealer installed), AM radio.
Comments: The car is rough and will be used as a fun driver and for periodic racing. The final condition will have a 557 tunnel ram motor, C6 trans, racing gears, and roll bar. Submitted by John Perry, 03/15/2009. Email: johnperry101@hotmail.com